If you are an adventure-lover and cannot imagine your life without trekking or hiking, then consider Georgia as your next trip destination. With georgous nature, affordable prices and interesting culture, the country has also a variety of options for hiking. Get the chance to discover Georgia by rent a car.
Here is the list of suggestions, if you consider hiking in Georgia:
Hiking in Lagotekhi park
Hiking in Lagotekhi park– the oldest preserved park in the country. Located in Kakheti- a region bordering with Azerbaijan and Dagestan, Eastern part of the country, the park is a heaven for those who strive for wildlife. Preserving a number of unique species of fauna and flora, while hiking there you can also see animals. The park has 5 trails: Grouse waterfall, Ninoskhevi waterfall, Machi castle, Black Rock Lake and knowledge of nature trail.
The one, leading to Black Rock lake is the most popular, which usually takes three days. However, it is important to remember checking the weather, because in caseof bad weather conditions, the hiking might be dangerous, therefore- forbidden by the administrators.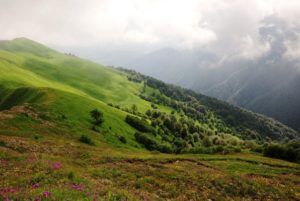 Hiking in Kazbegi mountains
Hiking in Kazbegimountains might be another good option for adventurous travellers. North of Tbilisi- Georgia's capital, it is the third highest point in the country. Trekking to Kazbegi might take only a day, since it is not located very far from Tbilisi- approximately three hours drive, and the trek itself is of medium difficulty.  Not only trekking and biking will be of travellers' interest, but also the area, in general. There is a National Park located there, as well as the town Stepantsminda, also called Kazbegi is a beautiful spot.
Gergeti Trinity Church and Gergeti Glacier
However, if you seek a trek harder, then head to Gergeti Trinity Church and Gergeti Glaciersituated againin Kazbegi district, near the village of Gergeti. Although, generally, hiking to the church and to Gergeti glacier might take up to 12 hours, it can also be reduced to 1-2 hours if you trek to the church, only. The church, built in 14th century, is not only famous for its historical value, but it also gained popularity among trekkers. Nevertheless, many adventure lovers prefer not stopping there and continue their road to Gergeti glacier. No matter how challenging it is to get there- it is a worthy adventure.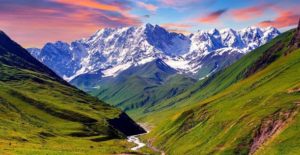 Hiking from Mestia to Ushguli
You can have one of the best hikes in Georgia from Mestia to Ushguli. Northwest of Georgia, both are located in the Svaneti region and both are Unesco World heritage sites. While the townlet of Mestia is mostly renown for its sights of historical importance, Ushguli- a community of four villages is popular for its authenticity and for its ability to preserve the unique features specific to villages. This trek from Mestia to Ushguli usually lasts 4 days, yet can be longer depending on the travellers preferences. It will open the beauty of Svaneti region- the highest inhabited spot in Caucasus to the visitors. This trekking road is considered as the most famous and popular one among adventurous travellers.