We present to your attention the winter resorts of Armenia, where you can relax with family and friends. Armenia winter tour will be a great opportunity to get acquainted with the historical and cultural values and sights of Armenia, enjoy the mountain scenery, as well as learn the history of the ancient people, who first adopted Christianity as the state religion in the 301 century.
Tourists and local residents in Armenia prefer to rest basically in Tsaghkadzor, Dilijan, Stepanavan, and Jermuk.
Armenia winter resorts
Recently, Armenia has been attracting more and more attention of skiing and snowboarding enthusiasts. There are three ski resorts: Jermuk, Sevan, and Tsaghkadzor.
Also Read: Why You Should Travel To Brussels Soon
Armenia winter tour to Tsaghkadzor
Tsaghkadzor is an ideal place not only for family holidays but also for skiing. The ski complex in Tsaghkadzor is located on the picturesque slopes of Mount Teghenis. Those who wish can visit the Kecharis church (XI-XIII centuries).
Among residents and guests of Armenia, it is customary to celebrate New Year in Tsaghkadzor, where are held festive show programs and more.
Also, you can take a cable car trip in Tsaghkadzor. You need to book a hotel room a few months before the holidays, otherwise, on New Year's Eve, there are no empty rooms even in the most luxurious hotels and rest homes of Tsaghkadzor.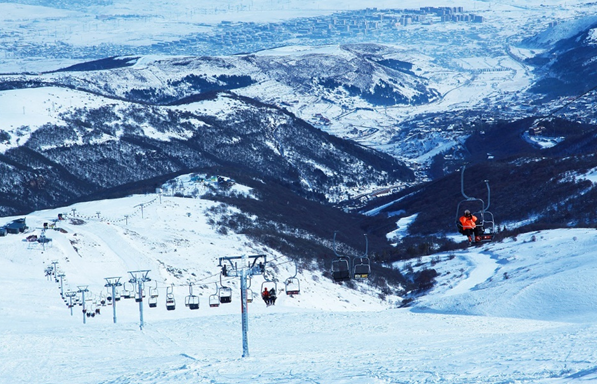 Armenian winter trips to Dilijan
Dilijan and its environs are rich in natural and historical-cultural sights, which make it feasible to conjoin passive relaxation with promenades and hiking.
In winter, the climate is mild in Dilijan. Majestic Dilijan National Park is a favorite tourist destination. Coniferous forest, Lake Parz, and fresh air have a beneficial effect on human health.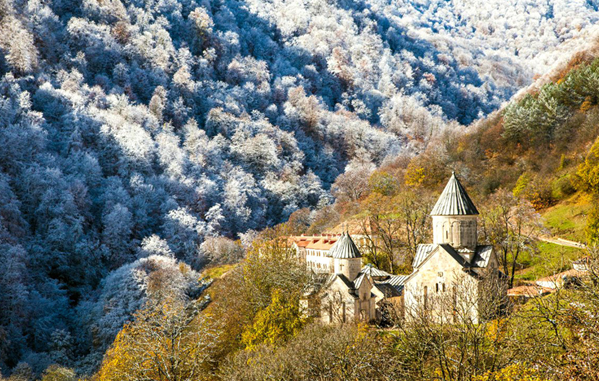 Armenia winter activities in Jermuk
Jermuk is a unique resort city in the south of Armenia, where you can not only relax but also undergo a course of treatment by tasting healing mineral water. The health resort is located in the upper reaches of Arpa River. Here you can relax in the winter, as the city has two ski routes and a cable car.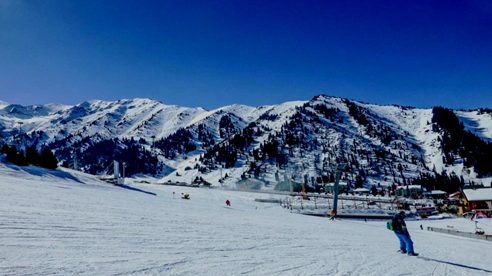 Armenia winter tourism in Yerevan
Weather in winter is 6-8 in Armenia, but if it is colder, you can go to large shopping centers or to convenient movie theaters to watch modern films in different languages.
A skating rink located on Swan Lake in the center of Yerevan has been operating since December 5.
Also, an excellent pastime for children will be classes in the sports school of figure skating named after Irina Rodnina, as well as in the Demirchyan Arena, Sports & Music Complex.
Festive illuminations in all administrative regions of Yerevan turn on December 19. On the same day, lights are lit on the main Christmas tree of the country.
In winter, a number of events are held: Winter Festival in Yerevan, Snowman Festival (February, Jermuk city). On New Year's Eve, the Christmas market, located on Northern Avenue, opens up in Yerevan.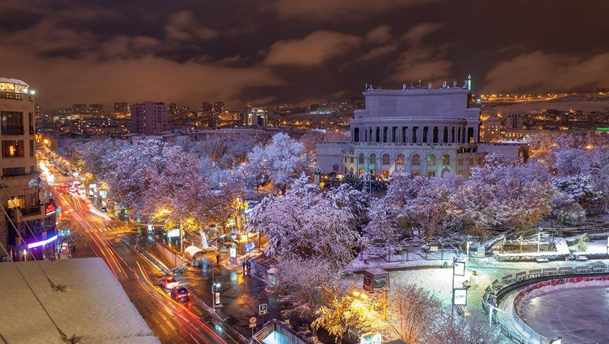 Armenia weather in winter
In general, you need to go to Armenia at any time of the year. But if you decide to go in the winter, then it is worth noting the features of winter holidays in the country.
There is a full winter in Yerevan but without catastrophic frosts. In addition, in Yerevan, located in the Ararat Valley, there are more than 300 sunny days a year. This means that you are unlikely to fall into a winter lingering depression from the constant fog and dank damp, and you will enjoy the sunny weather and views of Mount Ararat. At short distances, almost all possible climatic zones are found in Armenia. If you wish, you can quickly take a trip to the ski resort in Tsaghkadzor, take a ride from the mountain slopes. And this is just an hour away from Yerevan. And you can go further away – to the south or north of the country to find yourself in the subtropical regions of the country, where snow is a rarity. In a word, in Armenia, it's cozy, warm and homely in winter.